Heather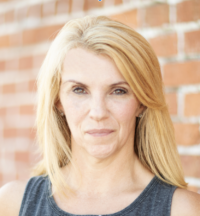 Heather rocks our early morning classes and is our running coach extraordinaire!  She is an ACE Certified Group Exercise Instructor and is studying to become a Personal Trainer!
At age 45, Heather decided to start running. She says, "I have no athletic history but I just felt it was the right thing to do. By age 47 I have run countless 5ks, 10ks, ½ marathons and 1 full marathon. My next goal is competing in an Ironman. I can attest that my progression as a runner has stemmed from weight training and proper nutrition. I started weight training in early 2018 and by the end of that year became a certified instructor.  I enjoy helping others, who are just like me, turn their 'I can't' into 'I will!' Anyone can become the best version of themselves; they just have to want it."
Heather's favorite activity is running and the burpee is probably one of her favorite exercises.